Information of facilities
In Japan, pedestrian must keep right of the road, and all vehicles including bicycle must keep left of the road.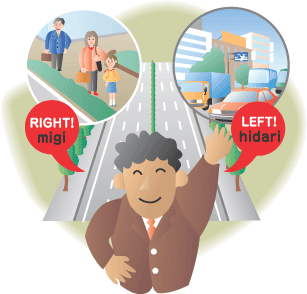 9-1
Registration is required for prevention of crime
When you buy a new bicycle, you are obliged to register it at the shop. If it is stolen, it may be discovered easily.
9-2
Regulation of abandoned bicycle
You are advised to park your bicycle in the public or private parking lot, or your bicycles left in no-parking area (such as around the station) will be removed by Fujimi-shi and Fujimino-shi ordinance of bicycle abandonment prevention. If your bicycle is removed, you must go to the bicycle storage depot to retrieve it within three months after the date of removal. You must pay a fixed charge for retrieving it..
yInquiryz
Around Mizuhodai station east exit, Tsuruse station east exit and Fujimino station
œ Fujimi-shi No.1 bicycle storage depotFtel.049-253-6816, 10:00~ 18:00 (closed on every Monday, December29`January'R ) Around Mizuhodai station west exit and Tsuruse station west exit
œ Fujimi-shi No.2 bicycle storage depotFtel.049-259-6606 , 10:00~ 18:00 (closed on every Monday,December29`January'Rj


Kamifukuoka station, around Fujimino station (within the city limits of Fujimino-shi


œ

Fujimino-shi Fukuoka Koukakyo-shita bicycle storage depot

F tel.049-269-1369, 10:00-17:30 on week days, 10:00~16:00 on Sunday.

(closed on Wednesday, National holidays, year ends and

December29`January'R,compensatory days)



9-3
Bicycle insurance
Person who ride on a bicycle in Saitama Prefecture is required to take out the bicycle insurance, under the ordinance in Saitama Prefecture
Large amount of compensation for damages may be charged in case of accident so you must provide in such case and have the bicycle insurance.
For details consult with a bicycle shop or nonlife insurance company.
9-4
City circular bus and city circular wagonE Life-bus
Buses and wagons run between the city hall and nearest station via various parts of the city and major public facilities. Fujimi-shi has a shuttle bus (Fureai-go) with eight systems, and Fujimino-shi has a city circulation wagon (Fujimin-go) with four systems. In Miyoshi-machi Life bus operates four systems via the town hall. The Fujimi-shi shuttle bus costs 200 yen for adults and 100 yen for children at a flat rate. A city circulation wagon of Fujimino-shi costs 200 yen for adults and 100 yen for children. The Life bus costs 220 or 210 yen for adults, and 110 yen for children
yInquiryz
œFujimi-shi KotsuEKanri-ka Kotsu-groupFtel.049-252-7121
œFujimino-shi Toshi Keikaku-ka Kotsu Seisaku-kakariF
tel.049-220-2072
œLife BusFtel.049-259-7566
9-5
Driver's License
Is your international driver's license valid in Japan? If it is invalid, you can not drive a car or motorbike here. You must have a Japanese license. A driver's license issued overseas can be used to receive a Japanese license if you can show proof that you resided in the country that issued it for at least 3 months after obtaining the license. As the documents required for conversion are different in country where you get license, you should ask the Saitama Prefectural Drivers' Licensing Center.


yInquiryz
œSaitama Prefectural Driver's Licensing Center's Foreign License
œConsultation OfficeFtel.048-543-2001 ext.334,335iEnglishj
9-6
How to get driver's license in Japan
If you want to get a driver license in Japan, go to the driving school or take a test for a driver's license directly. (You can take a test in English or Hiragana)
9-7
Automobile Insurance
You are advised to enroll automobile insurance. A combination of insurance plans is recommended to protect you and others in the event of a traffic accident.

(1) Compulsory Insurance
If you have a car, you must obtain compulsory liability insurance.

(2) Private Insurance
Private insurance provides compensation for damage to the vehicle and injury to passengers that is not covered by compulsory insurance, as well as representing you during compensation negotiations. This insurance can be applied for at private insurance companies. For further details, please ask private insurance companies or their agents.