Information of facilities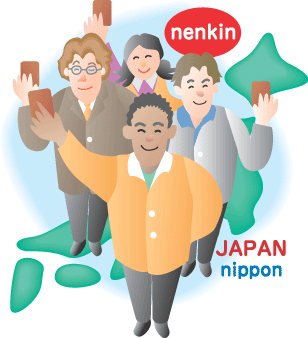 13-1
The system of national pension
All persons aged from 20 to less than 60 and living in Japan, including foreigners, have to register for the public pension system. Persons who are not enrolled in other pension plans (e.g. the Employees' Pension Insurance or the Mutual Benefit Annuity) need to register for the National Pension Plan.
13-2
How to pay national pension premiums?
The pension service office sends you a bill

from Japan pension servic

e for your national pension premiums. Bring the bill to a financial institution to pay premiums.
13-3
Types of Pension Benefits
Basic Pension for the Elderly, Basic Pension for the Disabled and Bereavement Basic Pension for the bereaved dependents are included.
13-4
Lump-sum reimbursement
To receive a pension, an enrollee must have paid into the plan for 10 years or longer. If a foreigner who is not qualified to receive a pension returns to the home country, a lump-sum reimbursement will be made if a claim is filed within two years of the date of leaving Japan.
13-5
Social security agreement with other countries
There are bilateral social security agreements between Japan and Germany, UK, Korea, USA, Belgium, France, Canada, Australia, Netherlands, Czech, Republic, Spain, Ireland, Brazil, Switzerland, Hungary, India, Luxembourg, Philippines, Slovakia, and China respectively.
For details please consult the pension office.
yPension problem Inquiryz
œFujimi-shi Hoken Nenkin-ka Nenkin-kakariFtel.049-251-2711
œFujimino-shi HokenE Nenkin-ka
HokenENennkin-kakariFtel.049-262-9020
œ

Miyoshi-machi Jyumin-ka Hoken Nenkin-tanto

F
tel.049- 258-0019
œ Home of page of Japan nenkin kikou